I am currently at home scrubbing unmentionables out of my son's Spiderman underwear while my other two-year-old screams incessantly in my ear because he wants grapes. My six-year-old is outside kicking a ball against the wall waiting for his dad to get home from work. During times like this, I constantly think…how do our residents do it?
The I remember some inspirational words. The staff at Home Start's Maternity Shelter Program asked our 23 residents to provide us with one word that meant something to them in order to create a custom painting. The word could be inspirational, something that got them through a tough time, a mantra, or a word that reminded them of something positive. Their words were:
Perseverance, Competent, Family, Determined, Omnipotent, Enlightenment, Love, Memories, Integrity, Peace, Aspiration, Hope, Strong, Serenity, Respect, Be Yourself, Persistence, Strive, Dedication, Patience, Courageous
Every time I think of these words I am reminded of motherhood. Typically, the media celebrates Mother's Day with stories of stay-at-home mothers putting lasagna in the oven and carpooling to soccer practice. And while there is certainly praise due to those moms, I think it's important to salute a different type of mother: our 18-24 year old ladies experiencing motherhood in the midst of homelessness, without family support, recovering from addition…and triumphing. Mothers who are able to take it one day at a time, one step at a time. Mothers who are able to sing praise of perseverance, family, strength and pour love into their children, no matter their struggles.
I am also reminded of the words of my staff who completed the same exercise:
Sunshine, Optimism, Compassion, Integrity, Fun, Passion, Dedication, Semantics, Achievement, Hope, Presence, Peace
I know I am among strong women who experience motherhood through the eyes of our participants and appreciate the beauty of a new generation. While we work on strengthening families, preventing child abuse and neglect, providing stability and self-sufficiency – we also see the light and the promise in this beautiful, incredible work we do.
Have an inspirational Mother's Day!
Our finished painting, created by Megan Bisbee: www.meganbisbee.com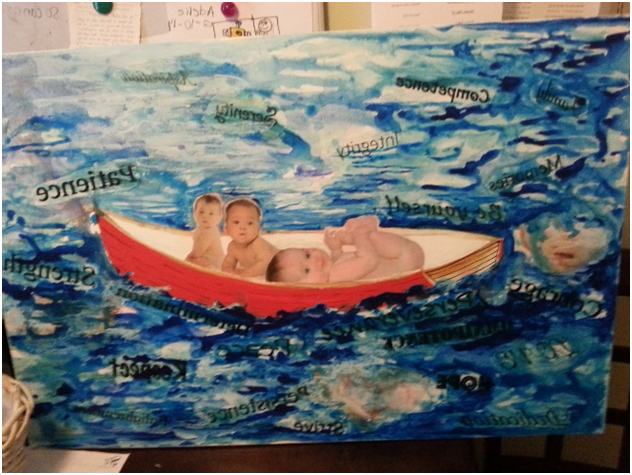 Share this post: