It's time for a Brain Break!
On NSPNsights, we are excited to provide you with a "Brain Break" from time to time. Brain Breaks can be fun tips, trivia questions, games, recipes, or the like. Today, we have a recipe from our new Director of Research, Education and Public Policy – Katie Carter. We look forward to "serving" you lots more Brain Breaks!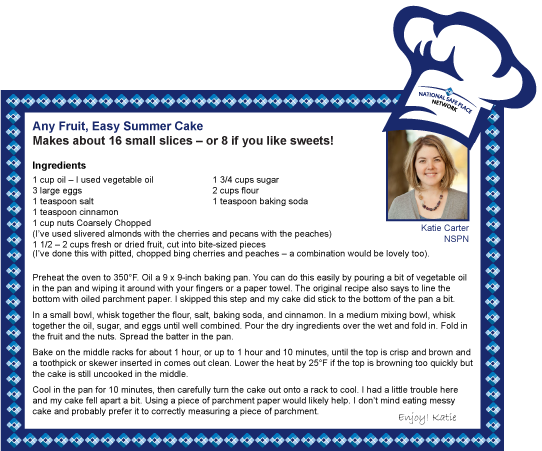 Any Fruit, Easy Summer Cake – This Brain Break was brought to you by: Katie Carter, National Safe Place Network – I love cooking and reading about cooking. I gobble up food blogs and new recipes as a hobby. I came across the recipe (from Big Girl Small Kitchen at ow.ly/zRO2d) after a weekend of overly enthusiastic fruit-shopping and a lot of cherries to consume. The wonderful thing about this recipe is you can make it using just about any fruit and nut combinations. Enjoy!
Share this post: