November is National Runaway Prevention Month
As we begin gearing up for the holiday season in November, many of us are prompted to reflect on all the things for which we are thankful. Unfortunately, while many of us will be counting our blessings, an overwhelming number of young people across the country will be trying to figure out where they will be sleeping that night or where they can get their next meal.
To raise the visibility of these young people - runaway, throwaway, homeless, at-risk, or otherwise unstably housed - National Safe Place Network is participating in National Runaway Prevention Month (NRPM) 2015. NRPM is spearheaded each year by the National Runaway Safeline (NRS) and National Network for Youth (NN4Y). The goals of NRPM are two-fold:
To raise awareness of the runaway and homeless youth crisis and the issues these young people face; and,
To educate the public about solutions and the role they can play in ending youth homelessness.
Speaking of solutions, we'd like to discuss Safe Place and TXT 4 HELP. Safe Place is a national outreach and prevention program for youth in crisis. As the only nationwide safety net initiative implemented on a local level, Safe Place brings together social service agencies, corporations, civic organizations, government entities, volunteers, educators, and law enforcement to increase the number of access points through which young people can connect for assistance. Nearly 20,000 locations across the U.S. display the yellow and black diamond-shaped Safe Place sign, the universal symbol for youth safety. Safe Place locations include: libraries, fire stations, YMCAs, grocery and convenience stores, public transportation vehicles, and more.
TXT 4 HELP is an extension of the Safe Place program, providing around-the-clock assistance for youth via text message. Youth can text the word SAFE and their current location (address / city / state) to 69866 and receive a message with the name and address of the closest Safe Place location, as well as the number for the local youth shelter agency. Users also have the option to text interactively with a mental health professional for more help.
This November, feel free to share information about Safe Place, TXT 4 HELP and other services available to youth on your social media accounts. To learn more about Safe Place and TXT 4 HELP, please visit www.nationalsafeplace.org.
National Runaway Prevention Month Events:
#tbt: On November 5, people across the country will share a photo of themselves as a teenager to social media with the hashtags #irememberwhatitslike and #NRPM2015. Once you have posted your #tbt, nominate a friend to post theirs!
'Wear Green' Day: Coordinate a "Wear Green" day with your friends, co-workers, students, and / or classmates on November 12.
Candlelight Vigil: Community groups and individuals across the country will be hosting candlelight vigils on November 19 to show runaway and homeless youth that they are not alone.
Thunderclap: Throughout the month of November, NRS is asking supporters to opt into their Thunderclap. On Thanksgiving, NRS' Thunderclap will 'go live.' If you have never heard of a Thunderclap, think of it like the Groupon of social media engagement: once a pre-set number of people opt in, the campaign can go live! Learn more at www.thunderclap.it and keep and eye on NRS' Facebook and Twitter for the Thunderclap link.
In addition to these events, there are endless ways individuals, community groups, schools, businesses, etc can show their support during NRPM. If you want to get involved but do not know where to start, the NRPM Community Toolkit is a great resource.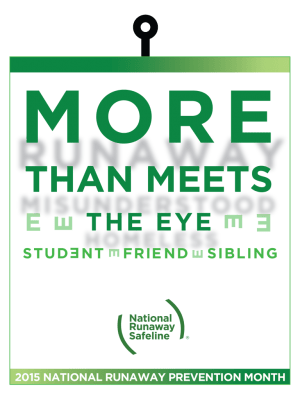 Share this post: