My Life as a Gruntled Employee
Written by Elizabeth Smith Miller, Director of Marketing and Events, National Safe Place Network
I'm gruntled. I'm so gruntled I sneak around on the weekends, wake up really early, and stay at the "office" really late. I know, I know—you're probably thinking this sounds like the beginning of a twisted Lifetime movie. I get that these activities can be seen in a negative light, but in this case—I assure you, they're great!
"Gruntled" isn't a term most people use to identify a "happy employee," but I say, "why not?" It's common to call an unhappy worker a "disgruntled employee." Anyhow, I'm embracing the phrase. I'm gruntled. I mentioned before that I "sneak around on the weekends"—I like to work on weekends and "sneak" to work when my family members and friends are busy with things they like (my husband likes naps). I "wake up really early"—I open my eyes and my brain starts to think about what new projects we can start, how we can make more meaningful connections with the members and agencies that we care deeply for, and what new information is needed in the field. I have even been known to send emails with ideas before I get out of bed and head for a delicious cup of coffee. Before coffee . . . yes, I know—that's pretty risky. I also "stay at the office really late"—I cannot "shut it down" at 5 p.m. I have tried (only because I was told about self-care—apparently that's a thing), but I actually don't think my mind ever stops. I love what I do so much, that I want to do it—all of the time. You've heard the phrase, "you'll never work a day in your life if you do what you love to do." Well, that's it—I am just doing what I love to do and I believe that IS my self-care. I'm gruntled doing it.
Here are some of the things that make me gruntled. Perhaps some of these things will help you fill your organization with gruntled staff—or understand why they are gruntled and help you keep it that way:
I care about our mission and vision. I think in order to be truly gruntled at the workplace, one needs to be passionate about the mission and vision of the organization. For the record, the mission of NSPN is to ensure an effective system of response for youth in crisis through public and private partnerships at a local, state, and national level. The vision of NSPN is to create a world where all youth are safe. Who wouldn't want to do that?
My supervisor is a leader. She leads by example. She believes in me. She checks her ego at the door and leaves that door open for input, ideas, and thoughts from all of her staff. She cares about my wants and needs to move forward. She listens—she takes the time to understand what MY idea of success is—and she helps provide the resources to accomplish it.
I'm challenged. There's nothing like a good ol' challenge to make me use my brain. Tasks can be difficult, but they are always possible. I care about our organization, partners, NSPN members, licensed Safe Place® agencies, and RHY grantees, so when I'm challenged, I know I'm playing a role in the success of all of these. (Being challenged also makes me gruntled, because it tells me I'm trusted.)
I have autonomy. I know some employees need a little more hand-holding than others, but I don't believe any employee likes to be micro-managed. I cannot stand it. I'm happy I have the autonomy to do what I'm paid to do and do it well. You might have heard the phrase, "hire someone who is an expert and then get out of their way." Well, it's true. If you're a micro-manager, stop now. You hired your employees for a reason—get out of their way and let them do it.
I'm comforted by transparency. I love that our organization is transparent. Gruntled employees remain content and safe when they know the direction of their organization. This doesn't mean everyone is involved with every decision, but it does mean we support each other by providing the information and tools we need to carry out our responsibilities. Nothing demoralizes employees more than the phrase "need to know." Everyone who knows me can tell you I don't like this phrase. I think people who push "need to know" as a control mechanism, as an explanation or excuse for excluding staff who may think differently or excluding staff who question the status quo—have challenges they or their therapist "need to know." One of the issues with "need to know" is no one seems to know who all "needs to know." It's based on perspective. Only including your "close friends" in a discussion or "accidentally" leaving someone out of a conversation disrupts the flow of the process. Processes are in place for a reason. To help with this, determine teams (everyone who actually needs to know) and create contact lists (for use across the board), so when you email someone, you email the contact list and you don't leave anyone out of the conversation.
I enjoy our culture. The team establishes the culture. Does it feel good when you walk into the office? Is it supportive and respectful or do you experience tension and stress? Being able to walk into an environment that is supportive enhances productivity—and gruntledness (not to mention it is definitely possible to have fun in the workplace).
I feel appreciated. Organizational leaders can't always give their staff members a raise, but they can invest in them in other ways—including professional development. Don't be afraid of developing your staff because they will move on—develop your staff so they can move up! They've already chosen your organization—show them you chose them as well. (By the way - NSPN offers a terrific Professional Development package with benefits like professional coaching for middle managers, an Emerging Leader Institute, Training of Trainer sessions, CEUs, Certified Youth Care course and certification, and more. Invest in your employees by letting NSPN help. Take advantage of these benefits and let them grow professionally! Contact us at

[email protected]

to learn more.)
They say happiness is contagious. I hope I've been able to share some ways you or your team can be happy—I mean . . . gruntled!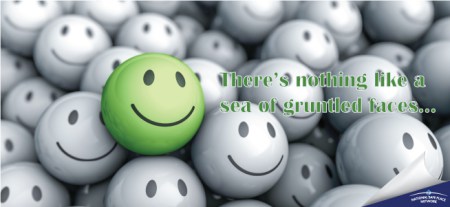 Share this post: